With a diverse portfolio that spans from cutting-edge home designs to timeless classics, and from rustic cabins to luxurious residences, Johnson & Galyon has the experience, materials, and skilled team necessary to bring any vision to life. Our work within the WindRiver Lakefront & Golf Community stands as a testament to our versatility and commitment to excellence. At WindRiver, we blend our rich heritage in construction with contemporary design trends to create living spaces that are both elegant and functional. Whether it's a serene lakeside retreat or a sophisticated estate, our approach is always tailored to the unique aspirations of our clients. In WindRiver's idyllic setting, we don't just build homes; we craft lifestyles, ensuring that each residence is a perfect fit for its environment and its owners.
Turning Visions Into Reality
Over the last century, Johnson & Galyon has become a leader in general contracting and construction management in East Tennessee by valuing people, performing with integrity, and providing exceptional construction services. This dedication is one of the many reasons the company has been involved in many of the region's landmark projects and continues to thrive after 109 years in business.
At Johnson & Galyon, we begin each project with the same goal: complete client satisfaction. Whether it's large or small, we treat each project as an opportunity to earn the trust and support of the communities we serve. Johnson & Galyon is committed to being approachable and flexible without clients. Whether we are helping you select an architect, manage an overall project budget, or execute a set of design plans, we take pride in being able to serve you in any capacity needed.
Lyons View Drive
5800 sq. ft.
River Front
4 beds, 5 baths
Modern Architecture
Plaster and Wood-paneled Walls
Floor-to-ceiling Glass Windows
Glass Back Fireplace
This custom-made home is located on Lyon Views Drive in West Knoxville. Building materials include a zinc roof, Tennessee fieldstone, and sinker cypress trim. The exterior includes a below-grade carport and a beautiful pool deck made with Ipe wood overlooking the Tennessee River and Smoky Mountains.
The interior of the home features a glass-backed fireplace capturing views of the river, plaster and wood-paneled walls throughout the home, and a glassed-in fitness room with leather flooring. The floor-to-ceiling glass windows also take advantage of the beautiful views.
Historic Box Hall
3396 sq. ft.
Georgian Revival Style
Remodel / Renovation
3 beds, 2.5 baths
Rooftop Garden
Guest House
National Register of Historic Places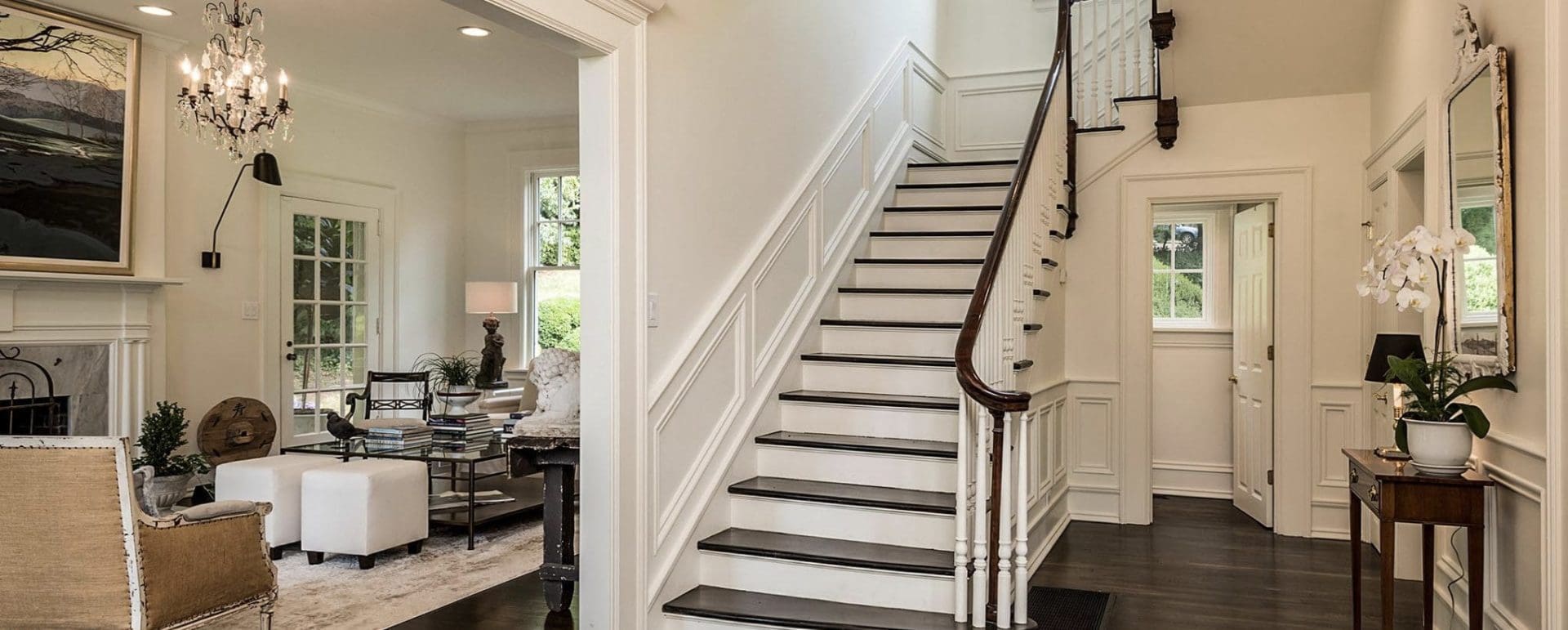 Built in 1920, Johnson & Galyon renovated this 3,396 sq. ft. Georgian Revival home, which features a three-bedroom, two-and-a-half bath "Main House" with a rooftop garden and porch off the master bedroom. The master bedroom includes a 700 sq. ft. breezeway-attached studio/one bedroom. There is also a guest house and unfinished walkout basement.
The historic Boxhall home on Kingston Pike is in the National Register of Historic Places.
Visit WindRiver
&

Discover Life on the Lake